An incredibly diverse set of projects have recently achieved SITES v2 certification, a comprehensive framework of nature-based solutions and performance-based metrics that protect critical landscapes and restore and enhance the mosaic of benefits they continuously provide our communities, such as climate regulation, carbon storage and flood mitigation. Each project that achieves SITES certification is unique in its own right, but all share their leverage of the rating system to create ecologically resilient spaces and healthy habitats for pollinators, wildlife and people. 
Explore these seven diverse projects from 2021 that highlight the wide applicability of the SITES v2 rating system, and their pursuit of a more sustainable, resilient future.
The first SITES Gold certified park in Texas:
Kingsbury Commons in Austin, Texas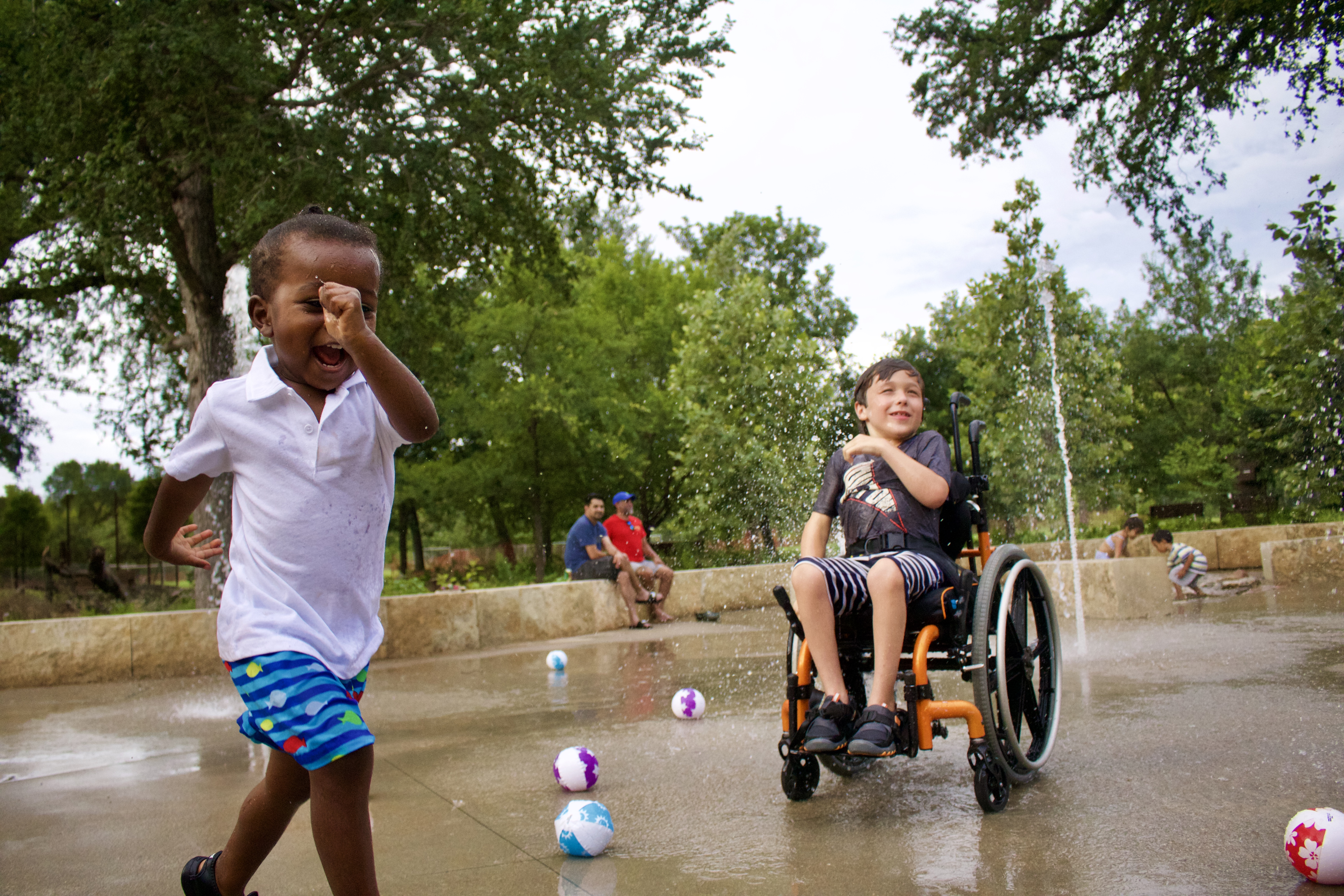 The Kingsbury Commons renovation is the first park project in Texas to receive the prestigious Gold level of recognition. Pease Park Conservancy worked closely with the City of Austin on the Vision Plan that resulted in the revitalization of Kingsbury Commons, the southern 7-acres of this 84-acre urban park. Sustainability was a top priority for the project; lead designers from Ten Eyck Landscape Architects were careful to incorporate native plants, soil restoration, a reclaimed wet-weather stream and recycled and reused materials into the design of the renovation. The whimsical 1920s Tudor Cottage was repurposed into a community gathering space while retaining its historical architecture. The redesign enriches the area by infusing the park with new opportunities for fun, fitness and connection to nature. 
Pease Park has a long and storied history in Austin, which the project sought to enhance and protect. Heath Riddles, Pease Park Conservancy CEO shares, "The SITES certification reflects how serious the Conservancy is about creating spaces that are beautiful and sustainable, while also contributing to the community's overall well-being." Learn more about this fantastic project here.  
The first zoo exhibit to achieve SITES certification:
Meerkat Exhibit at John Ball Zoo in Grand Rapids, Michigan
John Ball Zoo installed a new, interactive meerkat habitat using the SITES v2 rating system as a guideline to connect the public to both nature and wildlife. John Ball is the first zoo in the world to achieve SITES Gold certification on a habitat, which they hope serves as an inspiration as well as a benchmark for other zoos. 
The project features plantings native to Michigan that mimic the indigenous landscape of the African savannah in the meerkat habitat and on a neighboring green roof. The site's stormwater management strategy includes rain gardens that utilize leaching basins with the excess flowing into a pond near the Zoo's entrance, a system capable of handling a 100-year precipitation event. Additional landscape elements promote education and engagement with the green infrastructure. The meerkat habitat is an inviting attraction that promotes zoo attendance, maintains high standards of animal care and fosters environmental stewardship. 
"As a conservation organization, we have been building to green standards for some time," observes Allmon Forrester, the zoo's Director of Facilities, Planning & Sustainability. "However, LEED does not always fit well with animal habitats. The Sustainable SITES Initiative, however, totally encompasses our values as an organization and receiving SITES is a great way for us to communicate to the community our dedication to sustainability." 
The first SITES-certified project in Massachusetts:
Carter Playground at Northeastern University in Boston, Massachusetts
Carter Playground is a multi-use public park in Boston, Massachusetts that achieved SITES certification due to its focus on environmental responsibility and community engagement. Born out of a public/private partnership between the City of Boston Parks and Recreation Department and Northeastern University, the park serves as a space for recreation and mental restoration in Boston's South End neighborhood. 
Preservation of the existing trees onsite was prioritized during design and construction phases through a collaboration with local arborists to develop a rigorous tree care and protection plan. The site's design ensures precipitation is utilized as a resource as it infiltrates subsurface stone trenches throughout the landscape and collects in a cistern. Vegetation selected for drought-resistance makes up nearly a quarter of the total landscape area and enables a low-input maintenance plan when coupled with the stormwater irrigation system. Carter Playground provides a space for the city, neighborhood and campus community to gather.
Photo courtesy of Stantec.
The first SITES v2 certified projects in Ohio:
GCRTA - East 79th Street Station in Cleveland, Ohio
Completed in March 2021, the GCRTA's E. 79th Street Red Line Station reconstruction achieved SITES certification by transforming what was once an unsightly, abandoned railroad/industrial property into a more accessible green transit system. The original E. 79th Street Station had been in place since the 1950s. Over the years, a series of repairs and modifications kept the station operational, but many of its components were well past their useful life. 
During the reconstruction, existing stairs were replaced with an elevated fiberglass reinforced plastic (FRP) walkway system to provide ADA access to the station's platform and reduce site impacts. To enhance commuter experience and safety, upgraded LED lighting, signage, cameras and emergency call boxes were provided. The updated lighting and equipment reduces the station's on-site annual energy consumption by 30%. Other station amenities included new bike racks, recycling receptacles and a separate entrance to a major area employer to help promote public transit use and create Transit Oriented Development (TOD) Opportunities for the neighborhood. 
"In the past, the GCRTA has utilized LEED as our green standard, but with many of our transit stations lacking any occupiable interior spaces, it made certification difficult. SITES gave us the opportunity to show our organization's commitment to protecting the environment while providing public transit services to northeast Ohio through the certification process," notes Brian Temming, AIA, Greater Cleveland Regional Transit Authority Quality Assurance Manager. 
Learn about GCTRA's second station in Cleveland, Tri-C - Campus District Station.
The third SITES certified project in Japan:
Takenaka Research & Development Institute in Inzai City
Takenaka Corporation, a 400-year-old construction and engineering firm, achieved SITES Gold at its research and development institute. The project site, SHI-RA-BE, is established as a research field within the corporate boundary, but was designed also as an extension of the surrounding environment of Inzai City. All native vegetation was used creating an ecological network for bird species and other wildlife. The aquatic plants restored were recovered from a soil seed bank that contains the regional genetic characteristics. Other features include urban beekeeping and rainwater runoff controls that merge into a mini forest area that mimics the surrounding natural forests. The green infrastructure onsite creates natural habitat and provides a beautiful landscape for the employees and visitors. A key concept of this project site was also "collaboration." Takenaka encourages active participation of the community and local experts in using and learning from the site. 
Global leadership for landscape sustainability
Additionally, the U.S. General Services Administration's commitment to high performance landscapes (along with its buildings) is demonstrated again with two more SITES certifications this year with the FBI's Central Records Complex in Virginia and the new San Francisco Federal Building Plaza. To learn more about GSA's adoption of SITES, visit here. 
We thank all the project teams and the owners of these SITES certified projects for their leadership, attention to landscapes and outdoor spaces, use of nature-based solutions and their commitment to creating sustainable, healthy and resilient places. 
Curious about implementing SITES? Check out these certification resources, learn more about SITES every month in our newsletter and contact us at sites@gbci.org with any questions.