Events
Stay connected, and learn more about SITES at one of our upcoming events.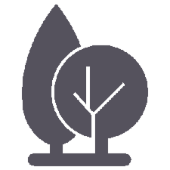 Landscape Ecology
February 12, 2019 from 11:30 a.m. — 1:30 p.m. | Town Lake Center, 721 Barton Springs Road, 78704
Thoughtful landscape design goes beyond designing for beauty. Small site landscapes and open space regional designs can create multi-functional green spaces that restore ecosystems, protect natural resources and increase community resiliency in the face of droughts, floods and other challenges. Learn how integrated landscape design can help preserve Austin's wildlife, air and water quality, culture and more. Speakers will discuss the Sustainable SITES Initiative goals and how to optimize landscape performance as well as review the range of benefits that nature-based solutions can provide in urban landscapes at multiple scales.
Speakers
Katie Coyne, Senior Planner and Ecologist, Asakura Robinson
Amy Belaire, Austin Urban Conservation Scientist and Program Manager, The Nature Conservancy
Danielle Pieranunzi, Program Specialist for the SITES Rating System, Green Business Certification, Inc. (GBCI)
Attendance
Seminars are open to building professionals and other invited guests. RSVP is encouraged. Seating is on a first-come, first-serve basis. The seminars are approved for AIA Learning Units, AICP CM Credits, GBCI CE Hours for LEED AP and SITES AP. Certificates of completion are provided for self-reporting.
---
---
Take A Deep Dive! A Deep Dive Look into LEED, SITES and WELL
April 8, 2019 at 9:30 a.m. | COSI, 333 W Broad St Columbus, OH 43215


During Design Columbus hosted April 8, 2019, join the session "TAKE A DEEP DIVE! A DEEP DIVE LOOK INTO LEED, SITES AND WELL". In this session, participants will explore the most recent toolkits that enable design teams to measure, monitor and guide design decisions for resilient buildings and performative landscapes as achieved through LEED, SITES and WELL Building Standards.
The built environment consists of three components – the land, the building, and the interior environment that buildings create. How they all work together to influence human health and well-being is the ultimate goal for every design team. Three tools have been developed by professional peer design organizations for the purpose of enabling project design teams to measure and monitor environmental performance. This presentation will take a deep dive into those three design tools, highlighting their distinctions and synergies, and how they support an integrated design process. Simply put, how LEED, SITES and WELL toolkits help "lead" the way.
During this session participants will:
Review summary of GBCI's LEED, SITES and WELL toolkits
Learn how LEED, SITES and WELL are used to enhance sustainability in projects
Understand the benefits, opportunities, limiting factors and synergies these programs provide to the client and design team
Speakers include:
Allen Schaffer, AIA, LEED BD+C, WELL AP, LBC Ambassador, FitWel Ambassador, Moody Nolan
Seth Trance, AIA, LEED AP BD+C, DLR Group Westlake Reed Leskosky
Jerry Smith, FASLA, LEED AP, SITES AP, EDAC, Smith GreenHealth Consulting
---